The Western North Carolina Baptist Fellowship is exactly that….a fellowship of Baptists in WNC. We believe "We are stronger together!" and our mission and vision are formed with this in mind. We are here to be a source of encouragement and support, and to do as Christ calls us as a fellowship of believers.
Our Mission…   
In order to fulfill the Great Commission, we are a network of churches, individuals and other interested parties for the purpose of education, fellowship, missions and worship.
Our Vision…
The Western North Carolina Baptist Fellowship is an autonomous body composed of churches and individuals.  WNCBF seeks to cooperate in a unique way to serve Christ and to carry out His Great Commission.  The WNCBF seeks to serve Baptists and other interested persons in the Western North Carolina area who desire to:
Promote fellowship of like–minded Baptists and other interested persons
Be missional in outlook and action
Be inclusive of all persons who desire to follow Christ
Strengthen congregations through resources, shared ministry and encouragement.
Enrich one's spiritual life through prayer, Bible study and educational resources.
Therefore we engage in prayer for each other, for missions, and for those who need the compassionate love of Christ.
Ministries at the heart of our mission (click

here

for a current list)
Coordinating Council
Members of the coordinating council serve for a 3 year term, and are made up of clergy and laity from member churches in the region. Ex-oficio/non-voting members include our treasurer and CBFNC representative, as well as the communications chair.
2018-2019 Coordinating Council
Jess Chapman (FBC Asheville), Sarah Davis (FBC Sylva),Tony Spencer (FBC Forest City), Gail Coulter (CBFNC/Providence), Bill Henderson (FBC Black Mountain), Dianne Yount (Cullowhee), Tim Marsh (FBC Rutherfordton), Jackie Rensink (Central Baptist), Matt Roberts (FBC Marion), Melissa Hughes (Hominy), Mary Apicella (Providence Baptist), John Bridges (FBC ), Jody Griffin (Central, Spruce Pine), and Kristen Dominguez (Hominy)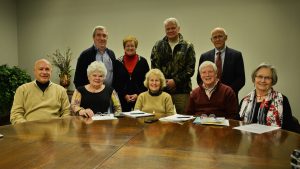 Our Beginnings
A gathering of 178 people met at Hominy Baptist Church on Nov. 25, 2002. The group gathered to worship, to fellowship and to design a future for doing missions and ministry together in the wake of changing relationships with local associations. Eleven churches were represented.
Some of the issues addressed were:
Fellowship with fellow Christians
Stewardship of time and money
Unity of faith
Evangelism on local levels
Social outreach in Western NC
Missions local and global
Dr. Joe Yelton, Dr. Guy Sayles, Dr. Bill Jones, and Dr. Buddy Corbin led the group in re-thinking a new direction for Western NC Baptists.
Today, there are 15 churches across Western North Carolina, from Newland to Cullowhee and from Mars Hill to Tryon, cooperating in the Fellowship with a vision to serve Christ and His Kingdom.